SawMaster

USES PREMIUM QUALITY MATERIALS TO ENGINEER MASONRY SAW

SawMaster provides a variety of masonry saws engineered with top-quality materials for competitive pricing. Our masonry saw is designed to handle large-scale masonry production. Providing deep cutting depths and powerful motors in the excess of 2HP, these masonry saws are ideal for handling the target materials, which are often larger and harder than what most conventional sized saws can handle.

An assortment of masonry saw platforms allow a wide range of masonry work to be completed, including a bridge saw variant which can rip cut up to 33" in length, and an enormous block saw featuring a 10 HP motor and an incredible 14-1/2" cutting depth capacity.

Similarly, to the rest of our diamond tool products, all of our masonry saws go through a rigorous inspection process to ensure that it meets the high standard of quality held at SawMaster. Our large warehouse stocked with a plethora of inventory is located in Riverside, California, but we are able to directly deliver any of our diamond tool products all across the United States. Your construction project is important to us, which is why we only equip out customers with products, tools and accessories that are engineered with the finest materials.

Order your masonry saw with SawMaster. Contact us today!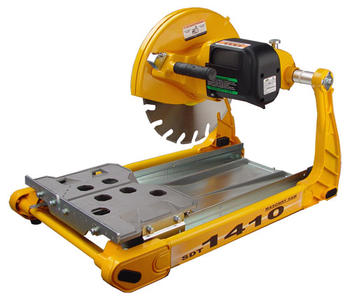 SawMaster
SDT-1410
The SDT-1410 is a dry-cutting masonry chop saw designed for brick & block jobs. Due to the large 14" blade and potent 3 HP carbon-brush motor, the unit can effectively cut blocks up to 5" thick in a single pass. Despite the saw's overwhelming power and cutting capacity, it is nevertheless one of the lightest in its class—weighing only 75 lbs. For added versatility, the saw can be outfitted with an optional wet or dry kit, or mount onto an optional stand to adapt the saw for use in a variety of situations.
Saw Type: Masonry
Motor: 115 V/60 Hz
Horsepower: 3HP
Blade Capacity: 14"
Blade Arbor: 1"
RPM: 3600
Read more
| | |
| --- | --- |
| Saw Type | Masonry |
| Motor | 115 V/60 Hz |
| Horsepower | 3 HP |
| Blade Capacity | 14" |
| Blade Arbor | 1" |
| RPM | 3600 |
| Weight | 75 lbs |
| Cutting Depth | 5" |
| Rip Cutting | 16" |
| Thermal Protection | Equipped |
Get a quote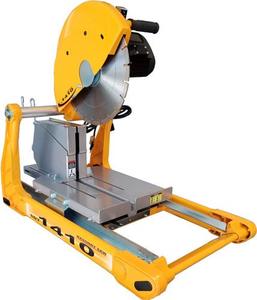 SAWMASTER
SDT-1410D
The SawMaster SDT1410D is a powerful 3HP masonry saw capable of cutting a wide variety of materials including bricks, blocks, pavers, stone, and roof tile. Designed for cutting dry, the saw is equipped with a removable vacuum attachment system that most vacuums can connect to. Although it only requires that at least a 150 cfm vacuum be connected, the system is more than capable of removing dust from cutting material over 5 inches in thickness. Despite its impressive capability and having an all metal frame the 1410 series saw is still one of the lightest saws in its class – weighing only 75 lbs.
Saw Type: Masonry
Motor: 115 V/60 Hz
Horsepower: 3HP
Blade Capacity: 14"
Blade Arbor: 1"
RPM: 3600
Read more
| | |
| --- | --- |
| Saw Type | Masonry |
| Motor | 115 V/60 Hz |
| Horsepower | 3 HP |
| Blade Capacity | 14" |
| Blade Arbor | 1" |
| RPM | 3600 |
| Weight | 75 lbs |
| Cutting Depth | 5" |
| Rip Cutting | 16" |
| Thermal Protection | Equipped |
| Vacuum Port | 2" |
Get a quote