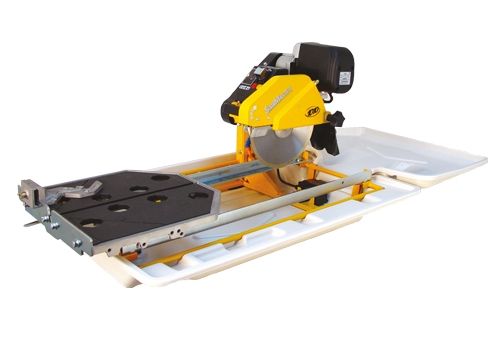 Ultraportable, High Performance Saw for Professional Installers

The SDT-1010 is designed out to fulfill the need for a powerful, yet lightweight title saw capable of cutting large 24" tiles. Its potent 2 HP brush motor generates an immense amount of torque to enhance cutting performance. To minimize its weight, the saw relies on a highly durable yet lightweight BAS water tray for structure and support while retaining a rigid steel frame to provide the necessary strength and stability.
Professional E.D.I System
The E.D.I System is a revolutionary device that monitors the machine's performance and health and then provides feedback that will allow the user to work more efficiently as well as to quickly identify problems.
Work Light
A built-in cluster of LED lights provide convenient lighting when working in poorly lit areas.
Carbon Brush Motor
The equipped carbon brush motor generates a tremendous amount of torque, surpassing that of a comparably rated induction motor. At the same time, it is also lighter and smaller, which makes it ideal for portability.
Adjustable Water Feed
Water feed can be adjusted to direct water flow to the blade rim for improved cooling efficiency.
Extend Drip Tray
Drip tray returns water spray and runoff produced during operation to the water tray to minimize the loss of water and to keep the work site clean.
ABS Water Tray
The provided ABS water tray is durable, yet lightweight, which helps minimize the saw's overall weight.
Extended Cutting Length
Revolutionary track system permits the cutting table to reach beyond the end of the track to achieve a longer cutting length without the added bulk or weight of a larger frame.
Ruler Guide
The cutting table features a convenient imprinted ruler on the rubber mat to assist the operator in making precise cuts.
---
Saw Type: Tile
Motor: 115 V/60 Hz
Horsepower: 2 HP
Blade Capacity: 6"~10"
Blade Arbor: 5/8"
RPM: 3200
---
| | |
| --- | --- |
| Saw Type | Tile |
| Motor | 115 V/60 Hz |
| Horsepower | 1 - 1/2 HP |
| Blade Capacity | 7"~10" |
| Blade Arbor | 5/8" |
| RPM | 3200 |
| Weight | 65 lbs |
| Cutting Depth | 3-1/2" |
| Rip Cutting | 24" |
| Diagonal Cutting | 16" |
| Thermal Protection | Equipped |
| ABS Water Tray | Equipped |
| LCBH | Equipped |